Nature's most powerful Antioxidant delivers 6000x as much antioxidant activity as Vitamin C
The graphic below shows the comparative antioxidant activity of common dietary elements with Icelandic Astaxanthin.
Icelandic Astaxanthin: 1000
Icelandic Astaxanthin: 1000
Lutein: 363
Vitamin C: 10
Vitamin E: 20
Green Tea Catechins: 20
CoQ10: 15
Synthetic Astaxanthin: 60
Synthetic Astaxanthin: 60
Beta Carotene: 100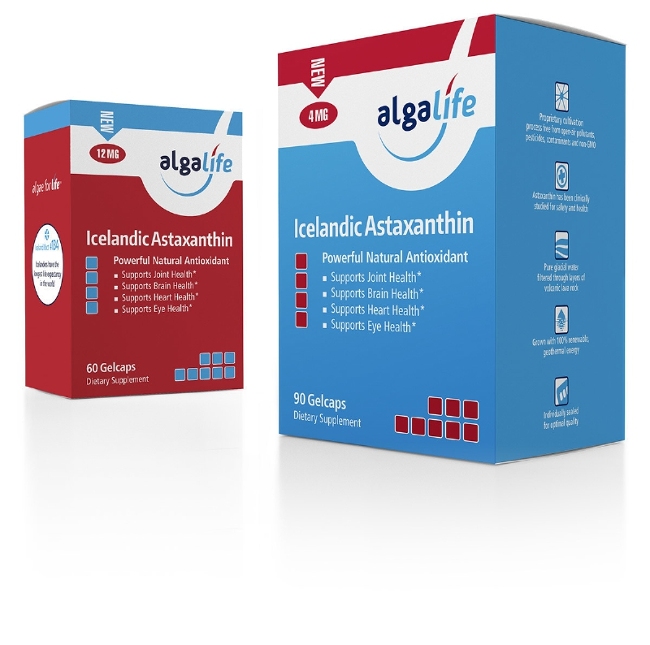 Astaxanthin antioxidant activity protects the entire cell.
Most antioxidants only work on part of the cell:
Vitamin E and beta carotene only work in fat soluble part of the cell
Vitamin C only protects water soluble part of the cell.
Astaxanthin works in both the water and fat soluble part of the cell
This powerful antioxidant supports joint, cardiovascular, brain, eye, skin and immune health. Working through multiple pathways in your body, it is perfect for anyone seeking good health, living an active lifestyle.
Supports joint and muscle health*
Supports a healthy cardiovascular system*
Supports healthy immune function*
Supports healthy skin*
Supports eye and brain health*
Why are Antioxidants important?
Antioxidant activity is one of nature's most powerful pro-health mechanisms. Although man-made antioxidants are available, we believe fruits, vegetables and microalgae are the best sources for your body. Antioxidants help prevent the damaging effects of oxidation in the body through a process of free radical quenching.
What are Free Radicals?
Free radicals are loose molecules that seek electrons to stabilize their mixed-up atoms. When these free radicals interact with other molecules in search of electrons, they cause oxidative damage which studies have linked with numerous diseases and health issues.
How do Antioxidants Work?
During free radical quenching, Antioxidants donate one of their electrons to free radicals thereby "quenching" their search for electrons from other cells in your body. Antioxidants can also help repair damage caused by free radicals.
Why Icelandic Astaxanthin?
Iceland is the perfect location for cultivating the best quality Astaxanthin! Algae is very sensitive to the environment and is easily contaminated by air-borne pollutants and bacteria. Iceland offers clean air, pristine glacial waters and our proprietary cultivation process is closed removing the risk of contamination from open ponds.